Meshia Clark BREA Biography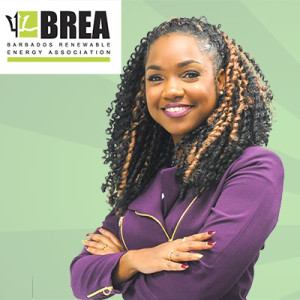 Ms. Meshia Clarke
was recently appointed the new Executive Director of the Barbados Renewable Energy Association in January 2017. She brings to the organization an in-depth knowledge of association building and development as well as critical project management skills, having successful led project development initiatives for several countries including; Jamaica, Dominica, Belize and Barbados.
She has a Master of Science Degree in International Trade Policy with Distinction and a Bachelor of Arts Degree with First Class Honours from the University of the West Indies, Cave Hill Campus. A former Foundation School student, she has also undertaken academic work in the Trade in Services within the Caribbean Community (CARICOM).
In her current role as Executive Director of the Barbados Renewable Energy Association she will have responsibility for charting a New Strategic Direction for the Association, enhancing membership engagement as well as boosting the membership of the organization. In addition to driving project development and resource mobilization for the organization.
BREA Address :
Level 2,
Tom Adams Financial Centre
Church Village, St Michael,Barbados
E-Mail : info@brea.bb
Tel : + 1246-622-2017
Fax : +1 246-622-2017
© 2019 THE BARBADOS RENEWABLE ENERGY ASSOCIATION (BREA) All rights reserved.