The BREA and BL&P Road Crawl Event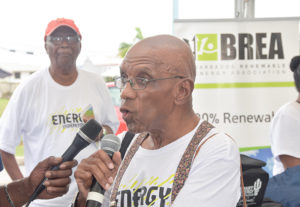 The Barbados Renewable Energy Association in partnership with the Barbados Light and Power Company and with funding support from the Division of Energy and Telecommunications launched on Saturday November 25th, 2017 the first in a three (3) part series of Road Shows which focused on the theme; "Looking to the Future: Embracing Energy Independence!"
The initiative which was conceptualized by the Barbados Renewable Energy Association and jointly endorsed by the Barbados Light and Power Company, was jointly executed having recognized the need that at this juncture of the country's development every effort should be made to facilitate greater levels of sensitization and education amongst the public and average Barbadian on the importance of energy efficiency and renewable energy in charting a new path forward.
The Road Crawl Event which was first rolled out back in 2016, is now a core feature of the Association's strategic outreach activities. This is because the Road Crawl Event provides an unique and creative opportunity, not only for the BREA Secretariat but more importantly our membership, to engage with a wide cross the section of individuals from across the public on the importance of energy efficiency and renewable energy.
This year with the funding support provided by the Division of Energy and Telecommunications we were able to have this event be a major feature within the country's and region's recognition of the month November as Energy Month in Barbados and across CARICOM.
The Secretariat wishes to take this opportunity to congratulate all our partners and members who agreed to come on board and participate in this event. Special thanks go out to the Massy Stores Team in Holetown St. James and the Dome Mall in Warrens. We also wish to thank the Sheraton Mall and the Do It Best Store and we can forget all our members who made this event possible. This includes namely; Caribbean Led Lighting, Williams Solar and Megapower Barbados. Be sure to visit the Galleries Section and Events Page of the BREA website to see additional photos and information from the event.
BREA Address :
Level 2,
Tom Adams Financial Centre
Church Village, St Michael,Barbados
E-Mail : info@brea.bb
Tel : + 1246-622-2017
Fax : +1 246-622-2017
© 2019 THE BARBADOS RENEWABLE ENERGY ASSOCIATION (BREA) All rights reserved.