The Barbados Renewable Energy Association Elects New Board of Directors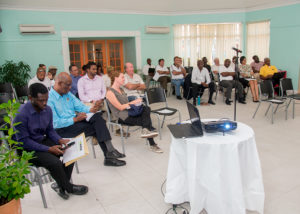 The Barbados Renewable Energy Association (BREA) has elected a new Board of Directors. The
Association's 6th Annual General Meeting (AGM) took place yesterday at the BIDC Bagnall Point
Conference Room Facility on Harbour Road, St. Michael.
Mr. Jerry Franklin, Managing Director of EnSmart Inc has been elected to the post of
President of the Association while Mr. Aidan Rogers outgoing President of the Association will
now serve as Vice-President. Mrs. Lisa-Anne Fraser and Mr. Peter Gollop have both retained
their positions as Secretary and Treasurer of the Board of Directors respectively. While Mrs. Kim
Griffith Tang-How was newly elected to the BREA Board of Directors.
The outgoing President of the Association, Mr. Aidan Rogers took the opportunity yesterday to
address the Association's membership. First, "thanking them for their support over the course of
his tenure as President" and then presented the Board of Director's Report to the membership on
the activities and programs undertaken by the Secretariat for the 2017 period.
In his last address to the Association's membership as President, Mr. Aidan Rogers remarked on
a few areas of concern, he touched on "the need for a decision to be made as it pertains to the
extension of the utility's license which is due to expire shortly" and he also emphasized the need
for "greater efforts to be placed on strengthening the ongoing efforts needed to position our
country's energy needs on a more sustainable path."
Other elected representatives of the Board include; Mr. Jim Reid, Chairman and Founder of
Caribbean Led Lighting Inc, Mr. Stephen Worme, General Manager of Williams Solar and Mr.
Kevin Devonish Managing Director of AES Energy Systems Inc and Mr. Rohan Ford, Managing
Director of Palm Tree Consulting Inc.
The newly elected President of the Association, Mr. Jerry Franklin on his appointment as President
of the Association reiterated, "his commitment to the organization and thanked the membership
for entrusting in him the authority to lead the Association in what will be a defining year for the
energy sector in Barbados."
(PR.)
BREA Address :
Level 2,
Tom Adams Financial Centre
Church Village, St Michael,Barbados
E-Mail : info@brea.bb
Tel : + 1246-622-2017
Fax : +1 246-622-2017
© 2019 THE BARBADOS RENEWABLE ENERGY ASSOCIATION (BREA) All rights reserved.